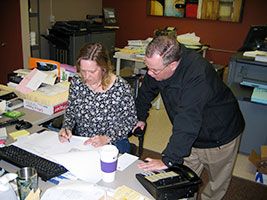 We love what we do. We really do. Printing is a serious thing for us. The passion we have for our work enables us to take ownership of our clients' projects. We constantly strive to deliver the highest-quality products possible. On time. In short, we WILL make you happy!
There is no greater satisfaction than delivering a finished product that helps a customer reach their goals and objectives.
Our Mission And Promise To You
Our mission is to provide you with the highest-quality products and services possible in a timely fashion and at a competitive price. We promise to listen to you and help you achieve your business goals. We will always be there with honest, expert advice and quick, friendly customer service.
Our goal is to meet and exceed your expectations.
Guiding Principles
Record Printing Company has a rather interesting history, as far as the history of printing companies goes...
Originally located in the Livestock Exchange Building at the Sioux City Stockyards, Record Printing opened its doors in the early 1900's. The company moved to its current location at 1117 Villa Avenue in 1994.
The Copy Center, operating in the Benson Building in downtown Sioux City, opened in 1970. The Copy Center was a quick print shop, consisting of several office copy machines, one production copier, and two one-color AB Dick presses.
In 1994 the owners of Record Printing (Gene Johnson) and Copy Center (Jeff Vlaanderen) decided to merge companies. This gave the company a wider scope of services. Since then we have grown into one of the area's premier quick and commercial printers.